New!
See our Winter programme including xmas riding, beginners riding, Boxing Day rides, New Years Ride, gymkhanas, fundays and Easter Holidays!
Click on an image.

Use our horses or
bring your own.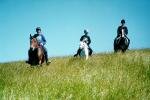 Beautiful countryside.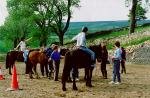 Expert tuition from
qualified instructor.
The Riding School has been established since 1990 Approved British Riding School, and Riding for the Disabled. Adam Senior NCMIH, our instructor has been teaching adults and children to ride for the last seven years. As a riding instructor he can offer people of all ages and ability an opportunity to enjoy riding in a safe and enjoyable environment. The horses and ponies are well cared for and you are welcome to come and see Adam teaching.

We have native ponies Fells, Highlands, Welsh Mountain Ponies and Cobs, most of our ponies are home bred, they are kind and good natured safe in traffic and enjoy their work as we care a great deal about them. The riding school is open most of the year.

We offer children 'Fundays' starting at 9.30 am to 4.00 pm. This is a wonderful day for a child - they can learn to look after a pony for the day: mucking out, grooming, cleaning tack, learning to tack up the pony. Feeding it and lots more besides, plus a riding lesson and a trek out. The children are well supervised (children 8 years and over).

Bring a packed lunch, sensible clothing and foot wear. Hats can be loaned.

So why not have the day off and leave your child with us or on the other hand come and join them. Riding Lessons from half hour to one hour. Flat lessons, jumping and showing classes. Private lessons. One to one, these are excellent for the adult beginner and the advanced rider.

Lounge lessons. If you have a problem with you position in the saddle or need to go to more advanced riding. Trekking is also available on a daily basis this is for the novice rider. Hacks are for the experienced rider and they need to be booked well in advance from 2 hours to a day ride. Usually only a small group of riders as these rides go over the high moorlands ( sorry no children. on these day rides). We also do RDA. Our group meets on Thursday tea time in the summer. Visitors are welcome to come and meet the group (Weardale RDA). We also offer riding for disabled people but it is wise to call and make arrangements for groups or one to one.

Send your horse or pony on holiday to use or come with it and have a break.

Breaking and Schooling native ponies our specially.

Our ponies were hired for the filming of Catherine Cooksons "The dinner of Herbs". and T V productions.

Cornriggs, being situated within an environmentally sensitive area can boast over 90 species of bird within walking distance of the farm: Hen Harrier, Merlin, Short-eared owl, Dunlin, Ring Ousel and yellow Wagtail to name but a few.

The North Pennines hold a substantial number of the country's Black Grouse population, and there are several lek sites within a 7 mile radius of Cornriggs. The males or black cock, gather at these lekking sites to perform an incredible display of posturing and vocalisation in order to impress visiting female gray hens. So enjoy a birdwatching break at Cornriggs, where the song of the skylark and the call of the curlew fill the spring morning air. Resident local guide available holidays and weekends.

Alston and Killhope Riding Centre,
Low Cornriggs Farm
Bishop Auckland
Durham
DL13 1AQ
OS Ref: 845413 Sheet 86/87
Tel:
Fax:
Email:

Copyright © Alston and Killhope Riding Centre
Prices:
Adults-
1 hour
Private = £12.00
Group = £ 9.00
Trek or Hack = £ 9.00 per hour.
Day riding = £45.00 (experienced riders only).
Children-
From 3-8 years:
1 hour = £ 8.50
½ hour = £ 6.50

From 8-15 years:
1 hr lesson = £ 8.50
1 hr Trek = £ 8.50
Childrens 'Fundays'
£17.00 per child

Jumping lessons
= £14.00
Private Lounge Lessons = £14.00
Two day riding holiday
Half a day riding and a lesson plus a full days riding and B&B and evening meal for two or more adults sharing a room, plus a free bottle of wine each evening = £140.00 per person. From May to September.
Bed & Breakfast
We also run Low Cornriggs Farm House as a bed and breakfast establishment. Please use the contact form below for further information.
Dry Stone Walling
For Beginners. This is a craft that goes back many hundreds of years. Maybe you have wondered how the walls stay up when they are only a pile of stones? This is an opportunity to find out how and experience a very unusual craft.
Courses start at 9.30 am and last until 4.00pm. Packed lunch. Please bring sensible, safe shoes, gloves, warm clothes, waterproofs and a hat. These courses are run from August through to mid October.